Hi guys,
I wanted to show you this amazing little heli from the legendary Align company, who have been manufacturing RC helicopters for years now, and are a major competitor in the RC helicopter world.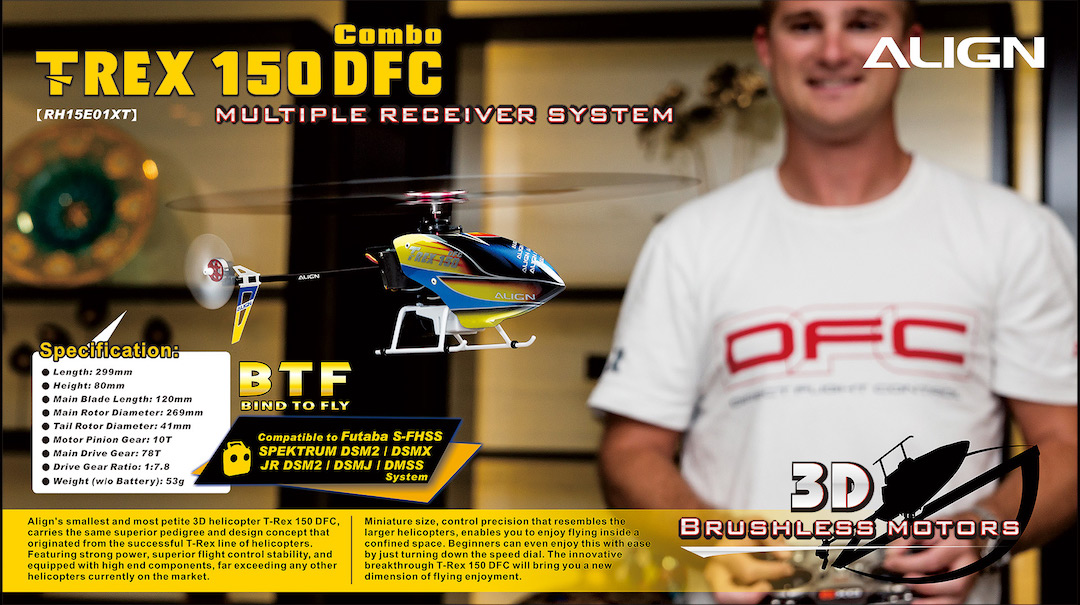 Hidden amongst the bigger helicopters in the Align family hides this little micro-heli which is fully 3d capable, super fast and holds the same superior handling qualities as the larger members.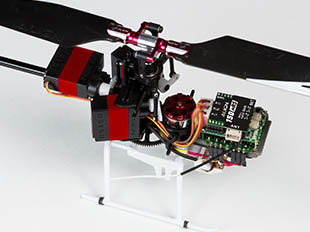 It has full size micro servos (found on some larger helicopters) and a DFC head (direct flight control) which eliminates the slop in the cyclic controls (that older models suffered from), and in turn gives you a more accurate and quicker response when performing rolls, loops and fast flight.
With two brushless motors onboard, one for the tail and one for the main drive, combined with a 2s 7.4v 250mah battery, the power will blow your mind. It's phenomenal! You can really push this little heli and if you crash, the replacement parts are far cheaper than the replacements on the larger helicopters, and as it's so light the crash damage is usually very minimal.
It is a great heli to practice with as it can be configured for beginners and tuned for expert hard 3D fliers via the turn pots on the MRS Integrated control system which optimises the 3-axis gyro which moves the swashplate around.
The T-Rex 150 features built in Futaba S-FHSS 2.4Ghz system, but also supports the use of Spektrum DSM2/DSMX / JR DSM2/DSMJ/DMSS satellite receivers. To get the T-Rex 150 airborne, all that is needed is inputting of parameters listed in manual into your transmitter, and the binding of your transmitter.
I'm only an intermediate flier with very limited 3D skills and the T-rex 150 is ideal for me to use because it gives me the confidence I need to fly inverted (upside down), as it takes away the 'crash factor fear' which most heli fliers worry about. If this goes down it'll cost me next to nothing to fix, and it's easily maintainable by the enthusiast, saving you time and money sending it to a shop for repair!
You can also buy a huge amount of aftermarket products, from the likes of 'Microheli' and 'Rakonheli', who manufacture amazing parts like tricked up chassis bodies, alloy swashplates, carbon booms etc.
I personalised my T-rex with a few aftermarket parts such as the alloy and carbon frame, legs, and swashplate, then finished it off with a Fusano 'goblin' style canopy....and it looks superb, and flies superb!
Have a look at some of the pro 3D pilots flying this thing on YouTube....you'll be amazed at it's capabilities and it's stability in normal flight.
If your into helicopters then this is definitely one for the arsenal of helicopters you already have, it's so much fun, very durable and looks like a
Much larger heli.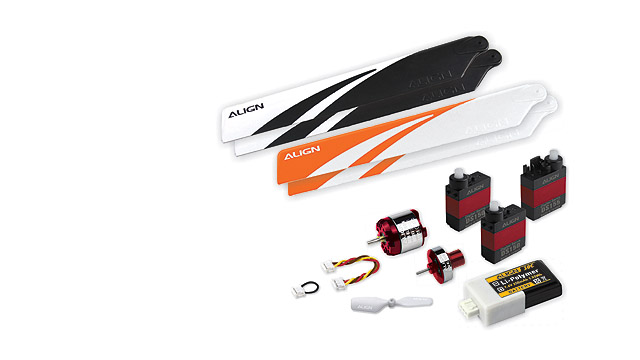 Standard equipment
●150 Main Blades-White
●150 Main Blades-Black
●150M Main Motor x 1
●150M Tail Motor x 1
●DS150 micro Servo x 2
●DS155 micro Servo x 1
●Bind Plug x 1
●Tail Blades x 1
●Remote Extension x 1
●7.4V 250mAh/30C
Specification
● Length: 255mm
● Height: 80mm
● Main Blade Length: 120mm
● Main Rotor Diameter: 271mm
● Tail Rotor Diameter: 41mm
● Motor Pinion Gear: 10T
● Main Drive Gear: 78T
● Weight (w/o Battery): 53g
Accessories
●T-REX 150 DFC Set x 1
●Main Blades x 2set
●Tail Blades x 1
●150M Main Motor x 1
●150M Tail Motor x 1
●DS150 micro Servo x 2
●DS155 micro Servo x 1
●Bind Plug x 1
●Remote Extension x 1
●7.4V Li-Po 250mAh Li-Polymer Battery x 1